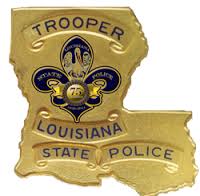 A fatal crash took the life of a one-year-old in St. Landry parish. Trooper Brooks David says 24-year-old Bendel Williams was driving down Highway 182 Sunday when he ran off the road. David says one-year-old Jamaika Johnson was not properly restrained in the back seat.


"The one-year-old child was injured and transported to the hospital, and unfortunately due to the injuries sustained, that child died while at the hospital," David said.
Investigators believe Williams is dating the child's mother. David says they are not sure what caused the driver to veer off the road, but the investigation is ongoing while Williams recovers from his injuries.
"Mr. Williams was transported to the hospital also with moderate injuries. Toxicology results are pending for that crash," David said.
David says charges are pending. He says children need to be properly restrained at all times when riding in a vehicle, and parents can come by troop stations throughout the state to make sure their car seats are installed correctly.
"Nine times out of ten when parents come here, we notice that that child seat is improperly installed, and we can show you how to install that car seat properly," David said.