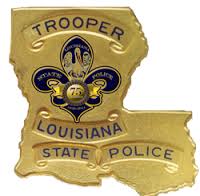 The mother of a two year old child, who died after falling out of the window of a moving vehicle in Acadia Parish, was arrested this morning. State Police Trooper Brooks David says 32-year-old Amber Watson of Church Point was booked on charges of child desertion and no child restraint.


"It's two misdemeanor charges, I think the jail time is up to six months if she is even sentenced to that."
Watson's bond is set at 25-hundred dollars. David says the charge of child desertion comes from Watson putting her child in an unsafe position where he could not take care of himself. He says the toddler, Mitchell Watson, climbed from the backseat of the car into the passenger seat and fell out the front window.
"So was her intention put somewhere else and what was she doing at the time that the child was doing this? As a parent, it's a sad thing to lose a child but we must always pay attention to what's going on."
The two year old child died on June 23rd from injuries sustained from the fall. David says it's important for parents to always be watching and pull over if necessary to ensure the child is safe at all times.
"We want people to take time. Put those distractions away, whatever they might be, whether it's the radio, the cell phones, anything outside the vehicle and actually pay attention to what's going on around us."