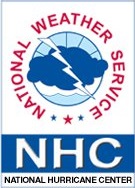 Tropical Depression 9 is in the southeastern Gulf of Mexico and the latest forecast track has the developing storm moving towards Louisiana, but eventually turning and making landfall on Thursday in Florida. State climatologist Barry Keim says the National Hurricane Center has the depression strengthening into a tropical storm, but admits forecasters are having trouble predicting its intensity.


"Some of the models actually have this thing just dissolving out in the Gulf, but there's also some potential it could become a hurricane before landfall. So that's a pretty wide range," Keim said.
Keim says the depression could become a tropical storm by the end of today or overnight and it should move into the center of the Gulf by tomorrow. He says it will basically be aimed at Louisiana, but a front should push the storm to the northeast.
"The most likely landfall region is probably the big bend region of Florida north of Tampa, but it has a pretty wide cone of error, ranging from about Panama City down to Ft. Myers, Florida," Keim said.
Keim says the storm is being steered by an area of high pressure. He says although it's not certain yet, it looks like Tropical Depression 9 will be Florida's problem, not Louisiana's.
"We're really banking on this trough coming down and grabbing hold of this storm and veering it off in another direction, and most of the models are calling for that turn to actually happen," Keim said.