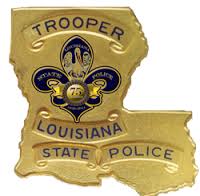 Two Lafourche Parish teens were killed in a single vehicle crash in Kraemer over the weekend, according to State Police. Trooper Jesse LaGrange says 19-year-old Jaydon Labat was driving down LA 307 at a high rate of speed when he ran off the road and hit a utility pole. He says 18-year-old Candace Reulet was also in the vehicle.


"Labat and Roulet were ejected. Although Labat was wearing his seat belt, due to the severity of the damage he was still ejected from the vehicle and both suffered fatal injuries as a result."
LaGrange says impairment and speed are considered factors in the wreck. He says this crash was 100% preventable.
"Whether we make plans before we go out and partake in activities or that person that sees this going and we can step up and say we need to make sure this person doesn't get behind the wheel."
Two teens are dead and another critically injured after a crash in Kentwood on Sunday morning. Kentwood Police Chief Michael Kazerooni says 18-year-old Ashley Moreau was driving down Line Creek Road when she over-corrected and her car slid and crashed into a tree.
"Both front seat passengers were pronounced dead at the scene and the third person who was ejected from the vehicle was the one who sustained critical but not life threatening injuries.
18-year-old John Moore was the front seat passenger and also killed in the crash. Kazerooni says speed was the main factor in the wreck.
"I just want to remind motorists all over the state. Please be aware of your driving habits and maintain a safe speed."