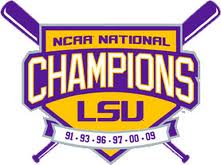 Greg Deichmann had a career-high four hits and Jared Poche (7-3) won his first game in April to help LSU beat Alabama 7-4 to clinch a series victory over the Crimson Tide.
Poche's 34th career victory wasn't his best performance, as he allowed 4 runs in 5.2 innings, but relievers Zack Hess and Hunter Newman kept Bama off the scoreboard.


Hess continues to pitch well out of the pen in SEC games. The freshman from Texas pitched 2.2 innings of hitless baseball and struck out five.
Hunter Newman recorded the final two outs in a non-save appearance.
LSU scored the first run of the game in the 2nd inning as Antoine Duplantis scored Jordan Romero on an RBI ground out.
The Tigers added two more runs in the 3rd inning. Deichmann had an RBI single and Kramer Robertson scored on a pass ball.
After Alabama scored a run in the bottom of the 3rd to make 3-1, LSU added another run in the top of the 4th inning. Deichmann drove in his second run of the night with a single.
The Tide cut the lead to one run in the 4th inning, but LSU added two runs in the 5th inning as Josh Smith drove in two runs with a single. Smith has 35 RBI for his freshman campaign.
Michael Papierski completed the scoring with a solo home run in the 9th. It was his fourth home run of the year. Papierski reached in all five plate appearances, three walks and a hit batter.
Robertson and Romero each had two hits as the Tigers had 13 hits for the game.
LSU goes for the series sweep on Saturday at 2 PM.